Can you drink on a party bus? This is a fair and vital question to ask before scheduling a rental! After all, many people rent a party bus specifically so that they can enjoy a few drinks with friends. In turn, you don't want to make your reservation only to find out that you can't drink when onboard!
If you're thinking of renting a party bus, check out some details about drinking, smoking, and the like. Then, discuss any additional questions with a party bus rental company near you as needed. They can fill you on their regulations and restrictions, so that you don't overlook a detail with your rental.
Can You Drink on a Party Bus, Limousine, or Other Charter?
One reason people ask if they can drink on a party bus is that the law prohibits open liquor containers in vehicles. Two, some families might want to rent a party bus and travel with underaged children. In turn, they might wonder if they're allowed to drink with children on the bus.
The short answer is yes, you can typically drink on a party bus, chartered bus, limousine, or similar rental. Laws about open containers don't usually apply to passengers in a rented vehicle driven by someone else.
Also, this doesn't typically change when you have children on the bus. Just as adults are allowed to drink in front of children at home, they're usually allowed to drink with children on a party bus. However, laws about underage drinking still apply! Consequently, those children can't join in drinking with the adults even on a party bus.
With this in mind, it's still helpful to check with a local rental company about their party bus rules and regulations. Individual companies are allowed to set their own restrictions for their rentals. For instance, some might not allow drinking when children are on the bus. This can protect them against accusations of allowing underage drinking.
Lastly, remember that other laws and regulations still apply even if you drink on a party bus. For instance, many cities have laws against public drunkenness. Also, laws still protect a party bus driver and others against assault and other inappropriate behavior! For all these reasons and more, anyone on a party bus should still exercise caution when it comes to drinking.
Is Smoking on a Party Bus Allowed?
Someone renting a party bus is legally allowed to smoke when on board. However, remember that party bus rental companies have the right to make their own rules for their vehicles. In turn, most prohibit smoking on their buses even when allowed legally. This can include cigarettes, cigars, vaping, and electronic devices.
One reason for this added rule is that it's difficult for them to clean smoke smells out of upholstery. Two, some drivers might be sensitive to smoke and odors. Also, smoking often risks burns on upholstery and other materials. Some party bus users are also negligent about using ashtrays for ashes and finished butts!
As a result, don't be surprised if a party bus rental company prohibits smoking in their vehicles. If you must smoke while using a party bus, ask about making added stops. The driver might let you off for a "smoke break" at a fast-food restaurant or other place on your route. Doing so can ensure your comfort while still observing all party bus rules and regulations.
Can You Bring Alcohol on a Party Bus?
Since you probably can drink on a party bus, you might wonder if you can bring your own alcohol. The short answer is that this also depends on a local company's party bus rules and regulations. In some cases, a party bus rental company might not provide any alcohol or refreshments. In turn, you would need to bring everything you want to eat or drink!
However, as with smoking, a rental agency might have limits when it comes to what you can bring on board. For example, some might not allow food, or might only allow prepackaged food and nothing homemade. Some also might not allow hot food and only cold items like sandwiches and chips.
Additionally, note that many party bus companies offer special packages that include alcohol. These are especially common around Valentine's Day, New Year's Eve, and the like. You might also ask about specials for weddings or anniversaries. Having the company supply champagne or other drinks means one less detail to worry about!
Above all, ensure you always ask what's included or restricted when considering a party bus rental. Read your rental agreement carefully and never hesitate to ask for clarification on any detail. Doing so will ensure you face no unpleasant surprises on your rental day.
Will a Party Bus Provide Liquor If You Ask?
A rental agency needs a liquor license on a party bus to provide passengers with alcohol. Some companies have such a license and might provide packages that include champagne and other drinks, as said.
However, don't assume that all party bus rental companies are alike! Whatever your needs or expectations, always ask ahead of time so you know what's included. Additionally, all those rules should be included in your rental agreement so there are no surprises the day of your rental.
Hidden Party Bus Rules and Regulations
Rarely are there any "hidden" party bus rules and regulations. Your rental should include a written agreement that you read and sign before renting. Also, rental agencies typically want you to understand their rules ahead of time! Knowing what they expect or don't allow can protect their equipment against damage and keep their staff safe.
With this in mind, you might note some common rules for party buses, chartered buses, limousines, and the like. These can give you an idea of what to expect from your rental agreement:
A party bus might allow you to change your destination after their arrival, but usually within a certain vicinity. For example, some party buses can travel within certain counties or cities. However, if you want to go outside that area, you might need to note this ahead of time.
Most party buses will have basic safety rules that passengers must follow. These might include not hanging out of windows or sunroofs, securing loose items like coolers, and the like.
Party buses and limousines always have a maximum passenger number. This number will include children, even if they're sitting on your lap. Passengers over that limit can create safety hazards for other passengers and the driver.
A party bus rental company might set their own rules about tipping. Some include it in the rental contract and others leave it up to the riders.
Lastly, never assume that a party bus driver will "look the other way" when it comes to illegal activity. They might be obligated to notify the police if they see underage drinking, illicit drug use, and so on.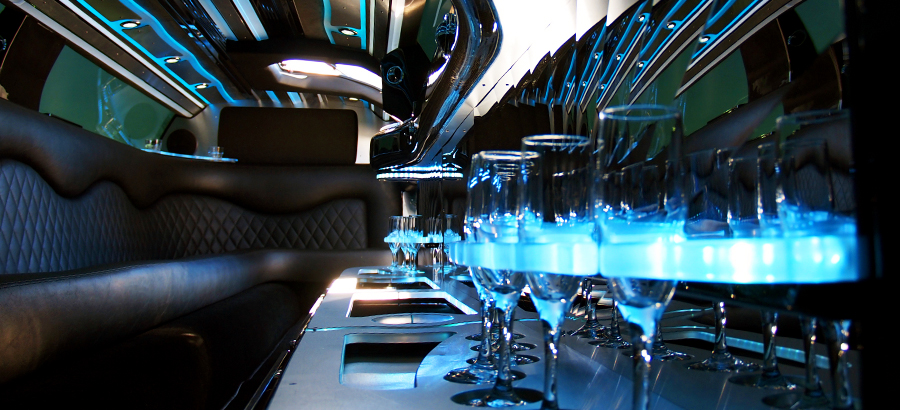 Where Can You Go on a Party Bus?
A party bus or charter bus is an excellent choice for a variety of occasions and destinations! Check out some suggestions for when you might rent a bus for you and your friends.
Weddings are an obvious choice for renting a party bus! Your wedding party or family can ride together without worrying about traffic or directions. Also, buses are often more comfortable when you're dressed up than a limousine.
Treat the guest of honor and their family or friends to a party bus for their birthday or anniversary. They're a great way to arrive at the party in style!
Many party buses have large-screen TVs in the back. In turn, you can rent a bus and catch up on pregame or postgame highlights to and from the stadium.
Party buses are a great way to ensure everyone's safety on prom night. You don't need to embarrass your kids by driving them yourself or worry about them behind the wheel when you rent a party bus.
If you and have staff heading off to a convention or trade show, consider a party bus or charter bus. You can ensure everyone arrives safely and as expected. Also, a bus allows you to chat with the group beforehand while providing space for samples and other gear.
Are you planning any outing that might include drinking? If so, use a party bus for your safety! They're an excellent choice for barhopping, visiting wineries or breweries, or casinos.
If you have a large group of friends or family coming in from out of town, consider a party bus rental! There's room for luggage and for everyone to chat while on the road.
What Kind of Party Bus Can I Rent?
Party bus rental companies usually offer a number of options for clients. One choice is a standard party bus but in different sizes, to accommodate groups of various sizes. These buses will usually have sound systems that allow you to plug in your own device. In turn, you can listen to a set playlist while on the bus! Many will also have TVs, party lights, and other such features.
A standard charter bus is like a city bus, with lots of seats and room for storage. These are excellent for providing basic transportation for larger groups. Many have Wi-Fi connections, and some even have small bathrooms. However, note that most charter buses are somewhat "stripped down," without special lighting, stereo systems, and the like.
Sightseeing buses are like regular city buses but with floor-to-ceiling windows along their sides. These windows allow for an unobstructed view to the outside. As the name implies, these buses are great for when you want to tour an area, not just get from point A to point B.
Along with party buses, many agencies offer limousines and various other vehicles. For instance, a luxury SUV offers more storage than many standard cars. Consequently, they're excellent for traveling to trade shows or for airport trips with lots of luggage! A town car also offers a luxurious ride and a roomy trunk for a few pieces of luggage.
When choosing between these options, remember to consider your event and how you'll dress. An elevated, roomy party bus and SUV are good options for anyone wearing a gown or other such outfit. Trying to climb in and out of a limousine or car in such clothing is often challenging! Limousines and party buses might also offer ice chests, to accommodate champagne or other refreshments.
What to Remember If You Bring Alcohol on a Party Bus
If you decide to drink alcohol on the party bus, you might note some practical tips beforehand. First, remember that some in the group might prefer not to drink, so include soda, water, and the like. Second, be sure to ask the rental agency if they'll provide ice or if you need to bring it yourself. Also, check if the rented vehicle has ice buckets or chests, or if you should bring coolers.
Next, don't forget how difficult it is to mix drinks on a moving vehicle! To avoid spills, consider stocking up on premade drinks for everyone. For instance, you can buy bottles of premixed Cosmopolitans, Mai Tais, Margaritas, and more. You might even find individual wine servings in plastic cups!
Speaking of which, don't forget to pack cups with you if you choose to drink on a party bus. You might also need a corkscrew, knife to slice limes if you bring them, and napkins.
Lastly, remember to clean up before leaving the bus. Many rental agencies charge a cleaning deposit that you won't get back if you leave a mess behind. Save yourself that money by putting trash in the bins and whatever else is needed to ensure a clean bus at the end of your rental.
The Boston Party Bus is happy to help answer the question, can you drink on a party bus? Hopefully you've found this post useful! If so, be sure to visit our other columns for even more tips when it comes to party buses. Also, call our Boston party bus rental company if you're ready to reserve yours! We offer a number of choices sure to fit your needs and budget. Above all, we're happy to answer your questions about party buses, luxury SUVs, and more. To get your rental started, just reach out to us today.