Should you rent a party bus for a wedding? This is an excellent question for any couple to consider, as party buses are a great alternative to a limousine. Typically, they offer lots more space for guests and help prevent wrinkles for your formal attire. On the other hand, are they really worth the expense?
Reasons to rent a party bus for a wedding include:
Climbing in and out of a limousine might be difficult physically
You're afraid of damage to dresses and other formal attire
You need something to accommodate a crowd
Party buses are excellent for less formal venues
There are many other reasons to consider a party bus rental for a wedding and other such occasions. These include added safety, a party atmosphere, and an alternative to formal limousines. Some couples even incorporate a party bus arrival into their wedding itself!
If you're still not sure about a wedding party bus rental, keep reading. Some added information about how they work and what they include can help you make your decision. In turn, you can discuss your options with a party bus and limo rental company near you as needed.
All the Reasons to Rent a Party Bus for a Wedding!
Check out all the reasons you might rent a party bus for a wedding no matter your plans. This can help you see why so many couples find it's the perfect choice for their big day.
Some individuals might struggle to climb in and out of limousines, especially when wearing formal wear. On the other hand, a party bus means easier embarking and disembarking.
Most party buses accommodate a larger crowd than any stretch limousine. Some can even hold 20 passengers or more! In turn, your entire family or wedding party can ride together.
The extra room in the back of a party bus can mean a more comfortable ride than crowding together in a limousine. You can even take pictures or videos more readily in a party bus.
In some cases, a stretch limousine might seem overly formal or downright "stuffy." A party bus offers a more casual look and feel. They're also excellent if you want to get the party started before arriving at your reception.
Some couples might even incorporate their party bus into the wedding ceremony itself. The bus can pull up to the venue's front door or an outdoor event. The bridal party or the couple disembarking makes for a great entry!
Certain roads, driveways, or parking lots might not accommodate a long, stretch limousine. With that in mind, you might choose a more compact party bus for your crowd.
Party buses typically include flat-screen TVs and a DVD player in the back. You can then create a special DVD for viewing before or after your event!
Since many couples choose limousines, you might opt for a party bus if you just want something unique for your big day.
What Is a Luxury Bus?
If you're still not convinced that renting a party bus for a wedding is right for you, it might help to consider what makes them so luxurious! A luxury bus is typically the same size as a shuttle bus rather than a city bus. Inside, a party bus might offer plush leather seating, party lights, a built-in stereo system, and other such features.
Party buses are a great alternative to a limo as they're typically taller and wider than limousines. A party bus offers more seating overall, as said. Most also have a flat-screen TV, a cooler for ice and refreshments, and other upscale details.
However, note that some charter buses aren't quite as luxurious, without party lights and stereo sound. One reason is that some groups might need a bus for business outings rather than parties! Two, some people in your group might be uncomfortable with a party "vibe" in the bus.
In turn, it's vital that you discuss your options and expectations with your rental agency. Don't assume that all charter buses are alike! Ensure that you check pictures of their interior before deciding on a bus for your wedding day.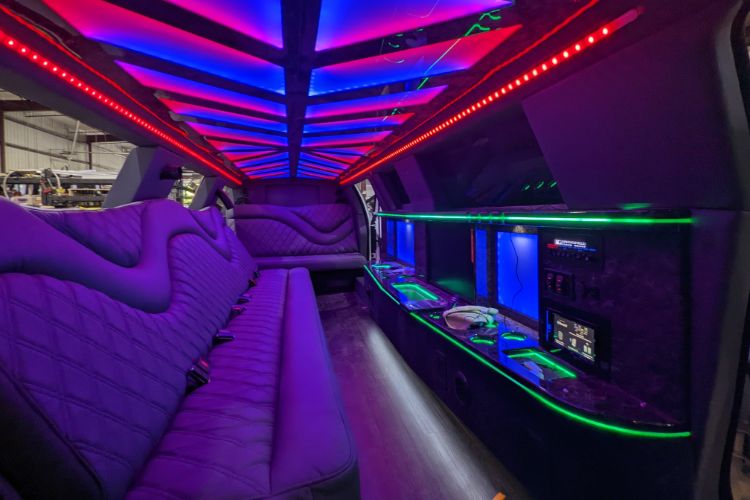 How Much Are Average Wedding Transportation Prices?
Most couples might expect to spend between $100 and $300 for a wedding party bus rental. Limousine prices are typically about the same. Your costs depend on the vehicle's size, if you book during peak rental season, and other such factors.
Also, some party buses or limousines might have added features that also add to those costs. This can include champagne or other specialty packages, decorations outside, and the like. Some buses are also more expensive because they have upgraded lighting or sound systems.
How Can You Save on Wedding Transportation?
Driving yourself to your wedding and reception is not always the best idea. Chances are that you're already stressed with the day itself, so why add traffic to your anxiety! Also, a person should never get behind the wheel after drinking even if you think you're okay to drive.
However, if you find wedding transportation prices a bit steep, there are some ways you might save. Check out a few tips on cost savings here:
Pare down the number of vehicles you'll rent for the big day. This can mean sharing a vehicle with the entire bridal party or having one family use the same vehicle.
Also, pare down your timeframe for renting a vehicle. Consider asking family members or those in your bridal party to meet at one spot before the wedding. Then, your rented vehicle can make just that one pickup trip rather than taking time to get everyone from their individual homes.
If you can, choose a venue that's close to home! Remember that the more drive time planned for your wedding, the higher your transportation costs.
Never hesitate to ask your rental company about specials or deals. They might offer a discount for Friday or Sunday rather than Saturday, for less popular vehicle options, and the like.
The Rules for Renting a Wedding Party Bus
If you decide to rent a party bus for a wedding, always check a company's rules before climbing aboard! In addition to requiring a deposit and other arrangements, most companies have added rules for their vehicles. While each company sets their own restrictions and requirements, most include the following:
No weapons on a bus (law enforcement personnel might be an exception)
No illegal drug use or smoking on the bus
No underage drinking
Only prepackaged food or drinks allowed on the bus
All rubbish must be contained in proper trash receptacle
No hanging out the windows or sunroof
Use the equipment only as directed
Also, remember that bus drivers have their job assigned to them by the rental agency. Consequently, don't assume you can ask them to run errands for you, help you off the bus, and so on. If you need additional assistance or have special requests for your rental, ask ahead of time.
Can You Have Alcohol on a Party Bus?
Most state laws prohibit open containers of alcohol in a vehicle even if you're of legal drinking age. However, party buses are typically the exception to this rule! In most cases, anyone of legal drinking age can have alcohol when on a party bus.
That being said, remember that party bus drivers don't need to tolerate inappropriate behavior. Also, most rental agencies require a cleaning deposit for their vehicles. In turn, avoid getting sick on the bus or leaving behind containers anyplace other than in designated rubbish bins.
Lastly, note that party bus rentals don't always include alcohol. Some rental agencies might offer special wedding packages for an added fee, but these aren't usually standard. Additionally, while most buses have a built-in cooler, you might also need to provide ice for the trip. Whatever the case, ask when scheduling a rental so there are no surprises!
Mistakes to Avoid When Renting a Party Bus
If you're thinking about renting a party bus, you might note some mistakes to avoid. This ensures a smooth rental without any unexpected issues on your big day.
Remember that party buses don't offer unlimited capacity! In turn, don't assume that unexpected guests can ride with you.
Ask about age limits if you're planning on bringing children with you. Some buses might not allow infants or those requiring a car seat. Whatever the case, ask beforehand so you can adjust your arrangements as needed.
Never assume that you can decorate the party bus inside or out. Some companies might offer a wedding package that includes special decorations. However, most prohibit outside decorations and accessories.
While you can just ride around in a party bus with no destination, a company might limit where they can go. For example, they might not allow a bus to cross state lines. Also, some might avoid high-crime areas. Ensure you plan your route in advance and clear it with the company when renting.
Important Questions to Ask When Renting a Party Bus
If you're ready to schedule your party bus rental, consider some added questions to ask. These ensure you don't overlook anything during the rental process.
Ask if they include a gratuity in the rental price. Some companies do this while others leave it between the driver and passengers. If you need to provide a tip for the driver, consider 15% to 20% or more.
Note if they require an hourly minimum for your rental. This can help you better decide your plans for a smaller or less formal wedding.
If you're planning a late-night reception, ask if the bus needs to return by a certain time.
If you want to use the stereo or television, ask about connection requirements. Most connect to a smartphone or tablet easily. However, don't assume you can simply plug in your device!
Should You Provide Transportation for Wedding Guests?
If you're planning a wedding, you might wonder if you should even provide transportation for wedding guests. While only you can decide what's right for your big day, check out some considerations to keep in mind.
Are you having a destination wedding or lots of guests in from out of town? If so, how will guests arrive if they don't have their own cars? Shuttles or buses are an excellent choice in this case.
Do you have older or infirm friends or relatives who might struggle with driving, especially at night after your reception? Providing them with transportation can ensure their safety and everyone's peace of mind.
Scheduling a party bus for your bridal party and family is a great way of thanking them for their support and hard work during wedding planning.
Consider your venue for both the wedding and reception. If it offers limited parking, consider a shuttle or bus. Your guests won't miss out on any part of the fun looking around for a place to park!
Should I Rent a Bus or Limo for My Wedding?
While buses offer lots of advantages over limousines, there are some reasons why you might choose a limo instead. For example, a limousine offers a more private atmosphere for you and your new spouse. Also, a smaller limousine is perfect if you don't need to provide transportation for a crowd.
Additionally, some couples might find a party bus to be too festive for a more formal occasion. Limousines and town cars offer a subdued arrival that's perfect for upscale events. A town car is also an excellent choice if you don't want to call attention to yourself during your big day.
The Boston Party Bus is happy to offer this information for those who want to rent a party bus for a wedding. Hopefully it's been helpful in making your choice for your big day! If you're in the area, call our Boston party bus rental company for your reservation as well. We have a wide variety of party buses as well as a beautiful stretch limousine, town car, and other options available. We'll provide you with a FREE quote and help you choose the right vehicle for your needs. To get your reservation started, call us today.